The European Politics and Society (EPS): Vaclav Havel Joint Master Programme is a multidisciplinary two-year Joint Master Degree Programme linking the fields of European politics, contemporary history and culture, economy, international relations and policymaking. The key role of the programme is to identify and analyze challenges Europe faces today (migration, security, populism).
The first semester of the EPS Programme is based on Master level introductory courses (in Prague); The second semester focuses on EU related courses (Krakow, Leiden); In the third and fourth semesters, the programme offers four different study tracks reflecting the diverse expertise of the Consortium members (Prague, Krakow, Barcelona, and Leiden).
Each track combines various elective courses, research methods training, an internship and language tuition with an advanced research dissertation supervised by key staff from each Partner University. Tuition fees are 8000 EUR per year.
There are approximately 22 Erasmus Mundus Joint Master Degree Scholarships offered by the European Union each year covering the whole 100% of the tuition fee and offering to students extra 1000 EUR per months as living allowances. Scholarships will be awarded based on the evaluation of the candidate during the admission procedure.
Location: Czech Republic, Poland, Spain, Netherlands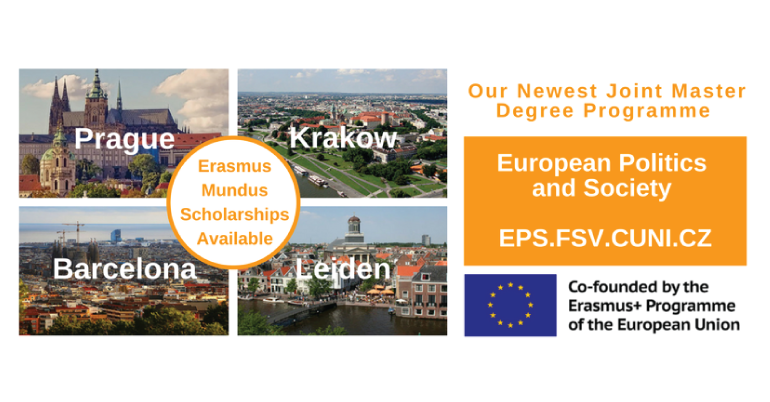 Benefits
Please follow the official link for benefits.
Eligibilities
English Language Certificate (TOEFL, FCE, IELTS or similar) corresponding to C1, TOEFL 95, IELTS 7.0
Translated copy of a diploma to show completed Bachelor's or Master's studies, or confirmation of ongoing studies in the academic year that those studies will be completed
Copy of a second diploma (second completed Bachelor´s OR High School diploma)
Eligible Regions: Open for all.
APPLICATION PROCESS
Translated copy of a diploma to show completed Bachelor's or Master's studies, or confirmation of ongoing studies in the academic year that those studies will be completed.
Copy of a second diploma (second completed Bachelor´s OR High School diploma)
Copy of passport
Proof of place of residence issued within 12 months before the submission deadline (e.g. ID, drivers licence, or any other document listed in the PRADO website, or a certificate from the candidate's place of work, study or training issued by the employer or institution).
Translated transcript of marks and academic results from both of the previous studies
CV
Motivation letter
2 letters of recommendation
Completed supplementary questionnaire indicating study track preferences
English Language Certificate (TOEFL, FCE, IELTS or similar) corresponding to C1, TOEFL 95, IELTS 7.0
Application Deadline: February 28, 2018
536 người xem