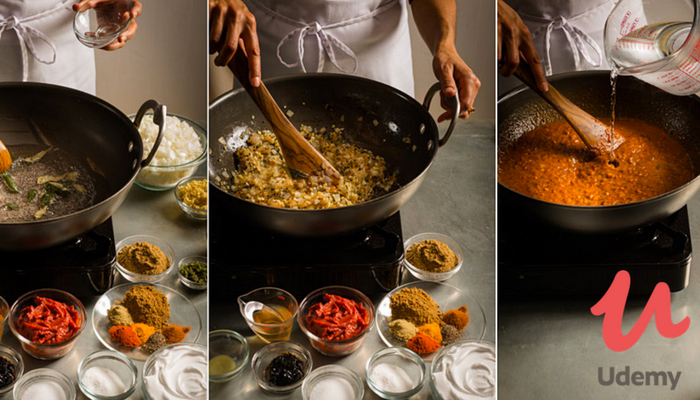 Udemy is a global marketplace for learning and teaching online where students are mastering new skills and achieving their goals by learning from an extensive library of over 55,000 courses taught by expert instructors.
Course: Healthy Cooking Fundamentals
A practical course to take your cooking skills from dull to delicious
Self-Paced
What will I learn?
Read a recipe to make your life easier;

Keep your food safe from harmful bacteria and disease;

Save time and reduce stress by preparing ingredients before you cook;

Confidently and safely use a knife and know how to keep it sharp;

Use chef skills to build the most flavour in your cooking;

Stop your food from burning by using deglazing techniques;

Plate, garnish and present a meal that looks as delicious as it tastes;

Apply all of these skills by cooking a simple and tasty curry.
Requirements
Basic knife skills (slicing, chopping, dicing, etc.);

How to bring a pot of water to a boil;

Have access to basic cooking equipment: Stovetop, large saucepan, wooden spoon, chef knife, chopping board.
Description
Do you want to be more confident creating your own healthy meals? Do you want the kitchen to be a source of curious learning rather than a stressful deadline? Join this course to learn culinary skills from Chef Nic DeMuth that will take your cooking ability to the next level.
There are three key skills that most home-cooks don't use that will turbocharge your enjoyment, confidence and ability in the kitchen: Mise en Place, creating a flavour base using salt and oil as tools and building your meal in layers. Your teacher, Chef Nic, a New York-trained health supportive chef and founder of the Up Beet Kitchen, shares these skills and many more, along with liberal splashes of his favourite cooking tips that are guaranteed to elevate your kitchen prowess.
Nic applies these skills to a delicious cashew curry recipe. At the end of the course, the final test is for you to create the meal yourself and apply the skills you learned along the way.
In just two hours you can complete this course having cooked a delicious dinner or lunch.
BONUS MATERIAL: We have included an extra mini-series which will help you navigate which tools and equipment you absolutely need in your kitchen and which ones work best.
Who is the target audience?
This course is for home cooks looking to improve their cooking abilities;

This course is not suited for advanced chefs.
Please go to the course link on Udemy for further detailed information and enrollment: Healthy Cooking Fundamentals.
3,750 người xem