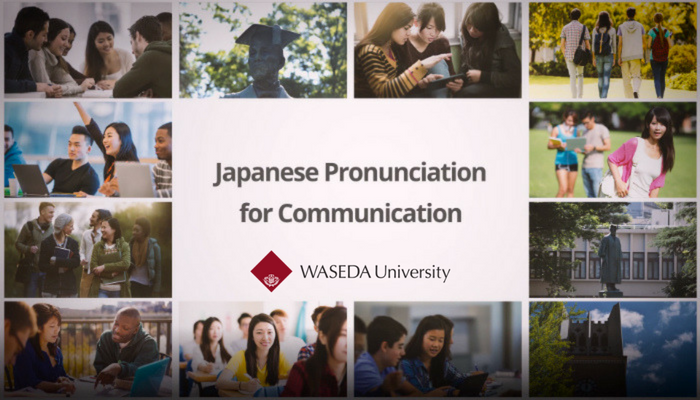 Waseda University is a leading institution in Japan, founded in 1882 with three principles: academic independence, practical innovation, and the shaping of open-minded citizens; aiming to provide the world with progressive leaders. Waseda has stayed true to these ideals, educating seven prime ministers and countless other politicians, business leaders, journalists, diplomats, scholars, scientists, inventors, actors, writers, and artists. Waseda's history and tradition are to tirelessly challenge convention, in favour of progression and innovation. By its 150th anniversary in 2032, the University has committed to expanding its leadership in Asia and around the world.
Course: Japanese Pronunciation for Communication
Practice pronunciation and improve your spoken Japanese in context.
Self-Paced
About this course:
日本語にほんごの説明せつめいは「See more」をクリックしてください。
One of the most challenging aspects of learning Japanese is pronunciation.
Most non-native Japanese speakers, whether basic level or advanced, have experienced at least one situation when they were misunderstood or couldn't share their true feelings because of incorrect pronunciation.
If you are a Japanese learner, anywhere around the world, this language course has been designed to help you improve your pronunciation, and give you confidence in spoken Japanese.
Join Professor Toda at WasedaX to practice your pronunciation, improve your communicative Japanese and become a confident Japanese speaker.
Length: 5 weeks

Effort: 3 hours per week

Price: FREE

Institution: WasedaX

Subject: Language

Level: Introductory

Languages: 日本語

Video Transcripts: English, 日本語, Korean, Simplified Chinese

Prerequisites:

Basic level of Japanese;

Ability to read Hiragana and Katakana.
What you'll learn:
Appropriate pronunciation, accent, and intonation to improve your communicative Japanese;

Different techniques to practice and improve Japanese pronunciation, including "shadowing";

About Japanese culture and society through pronunciation practice.
Please go to the course's link on edX for further detailed information and enrollment: Japanese Pronunciation for Communication.
2,179 người xem