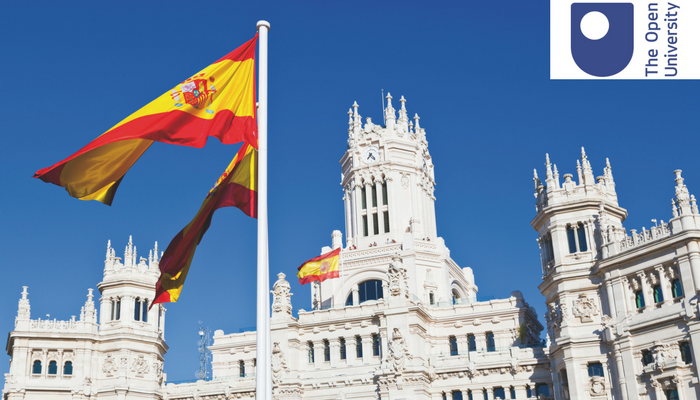 The Open University (OU) is the largest academic institution in the UK and a world leader in flexible distance learning. The UK's latest Research Excellence Framework exercise (REF 2014) places The Open University in the top third of UK higher education institutions by 'research power' ranking. 72% of OU research submitted was assessed as world-leading or internationally excellent.
6-Course Series: Spanish for Beginners
This program of six free online Spanish courses, created by The Open University, will help you develop your skills in Spanish at a basic level and introduce you to the Spanish-speaking world.
Self-Paced
Learn basic Spanish and discover the Spanish-speaking world
Have you ever visited Spain and wished you spoke some Spanish to interact with the locals and understand more of the country? Have you ever travelled to Central or South America and been fascinated by the language, the people and their cultures? Have you always wanted to find a way to the food, music, cinema or literature of the Spanish-speaking world?
Whether you want to learn Spanish to go on holiday, use it for work or study, or simply give your brain a boost, this Spanish for Beginners program will help you discover one of the world's most widely spoken languages and the fascinating cultures and peoples of the Spanish-speaking world.
The program is designed for learners with no prior knowledge of Spanish and provides a solid foundation at level A1 of the CEFR.
Accessible for free on desktop, tablet or mobile, and delivered in bite-sized chunks, the six, four-week courses in the program provide a flexible way to learn to understand and talk about everyday and familiar situations in Spanish.
Learning outcomes
Through the Spanish for Beginners program, you will learn to:
understand and communicate in Spanish in everyday situations;

develop basic speaking, listening, reading and writing skills;

learn vocabulary and expressions to talk about everyday topics;

become aware of the cultural diversity of the Spanish-speaking world;

and develop your study skills to become a successful language learner.
In particular, you will learn the language necessary to:
greet people, say where you live and what languages you speak;

describe people and what they wear, talk about your family and home;

talk about daily life, what you do and when things happen;

talk about your hobbies, likes and dislikes;

make phone calls, book accommodation,

shop for food or clothes, and get things done;

and ask for directions, order food and drinks when you're out and about.
Courses in detail:
For any further detailed information, please go to this program's link on FutureLearn: Spanish for Beginners.
1,777 người xem