Chuyên môn:

Khác

; Xuất nhập khẩu
-

Tính chất công việc:

Toàn thời gian

; Thực tập
-

Địa điểm:

Hồ Chí Minh

; Khác
Mondelez Kinh Do is a powerful combination of snacking leaders making much-loved brands for Vietnamese consumers. Mondelez Kinh Do brings together local understanding of Vietnam's consumers and routes to market with Mondelēz International's world-class innovation, marketing and people development experience to create a business that is better together
With a shared passion for creating brands people love, Mondelez Kinh Do's combined portfolio includes leading snacks brands from Vietnam and around the world, such as Kinh Do mooncakes and biscuits, Cosy biscuits, Solite soft cakes, AFC crackers, Oreocookies, Ritz crackers and Cadbury chocolate.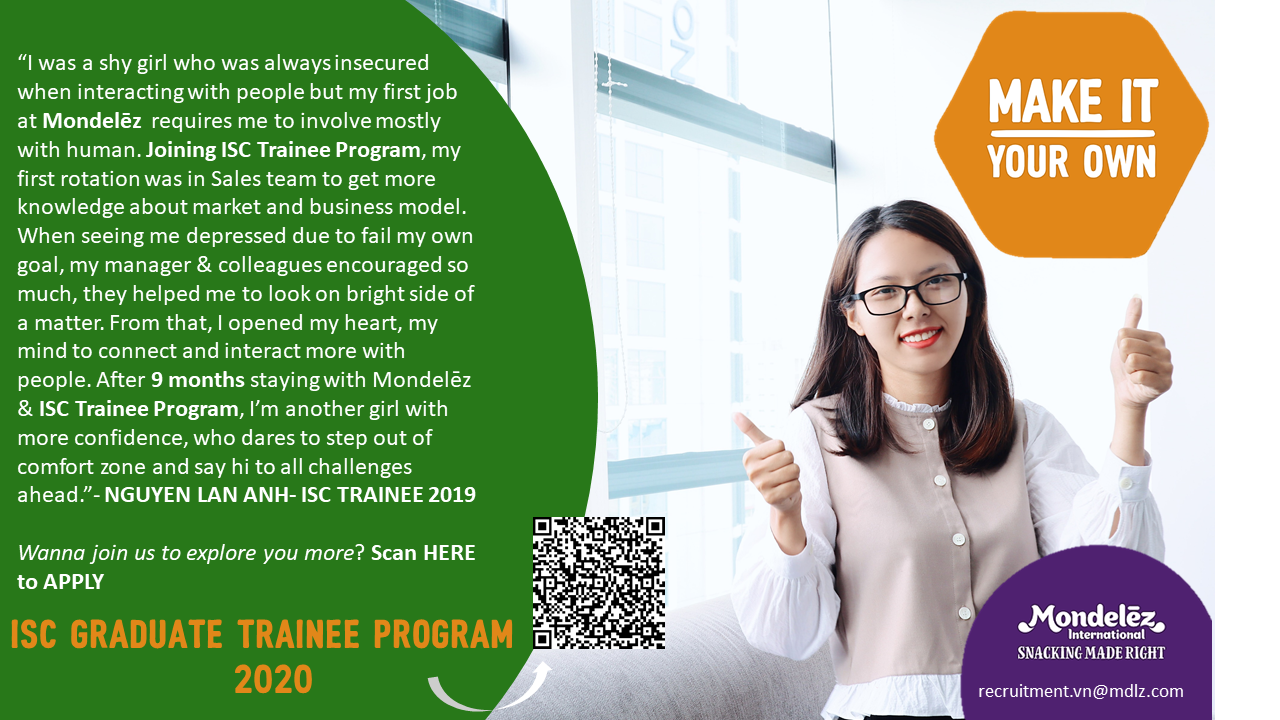 WHAT IS ISC TRAINEE PROGRAM?
ISC Trainee Program is an exclusive program at Mondelez Kinh Do Vietnam with 18 months training period for fresh graduated students or who has less than 1 years of work experience.
With ISC Gradute Trainee Program, you will get solid professional knowledge through training program from senior leadership team and real business project.
This program provides successful candidates with the opportunity to fast track their career in Manufacturing & Supply Chain function as it provides a foundation for your functional, managerial skills and business awareness development.
WHAT YOU WILL BE OFFERED?
Participate in professional training programs from top management and intensive courses from Mondelez International University (MIU).
Have unique experiences through projects only provided by Mondelez International.
Be an Ambassador for Mondelez Kinh Do Vietnam - a powerful combination of snacking leaders, to bring quality products to community.
Enjoy attractive compensation and benefits combined with a clear and appropriate road map.
Be able to grow in a 18-month fast-track training program through 4 rotations.
WHO WE ARE LOOKING FOR
Bachelor degree or Final year students, Fresh graduates or less than 1 year of working experience.
For Manufacturing track: Technical background, preferable in Mechanical Engineering, Automation, Electrical Engineering, Industrial Engineering/ Maintenance, Industrial Chemistry or Industrial Management.
For Supply Chain: Economics, External Economic Relation and relevant majors
Accumulative GPA >= 7/10 OR 2.8/4.
Good English communication.
Strong interest and motivation to work for MDLZ & function of their choice.
Good planning skill and be able to work under pressure.
Fast learner, Resilient and winning spirit, can-do attitude
RECRUITMENT PROCESS
Application Period: 16 December 2019 – 01 February 2020
Onboarding Date: March 2020
Location:
+ Manufacturing Department (for engineering students) : Hung Yen Plant / Binh Duong Plant
+ Supply Chain Department (for economics students) : Ho Chi Minh Office
HOW TO APPLY
o Email: [email protected]
o Hotline: 028 7302 6789 - Ext 8000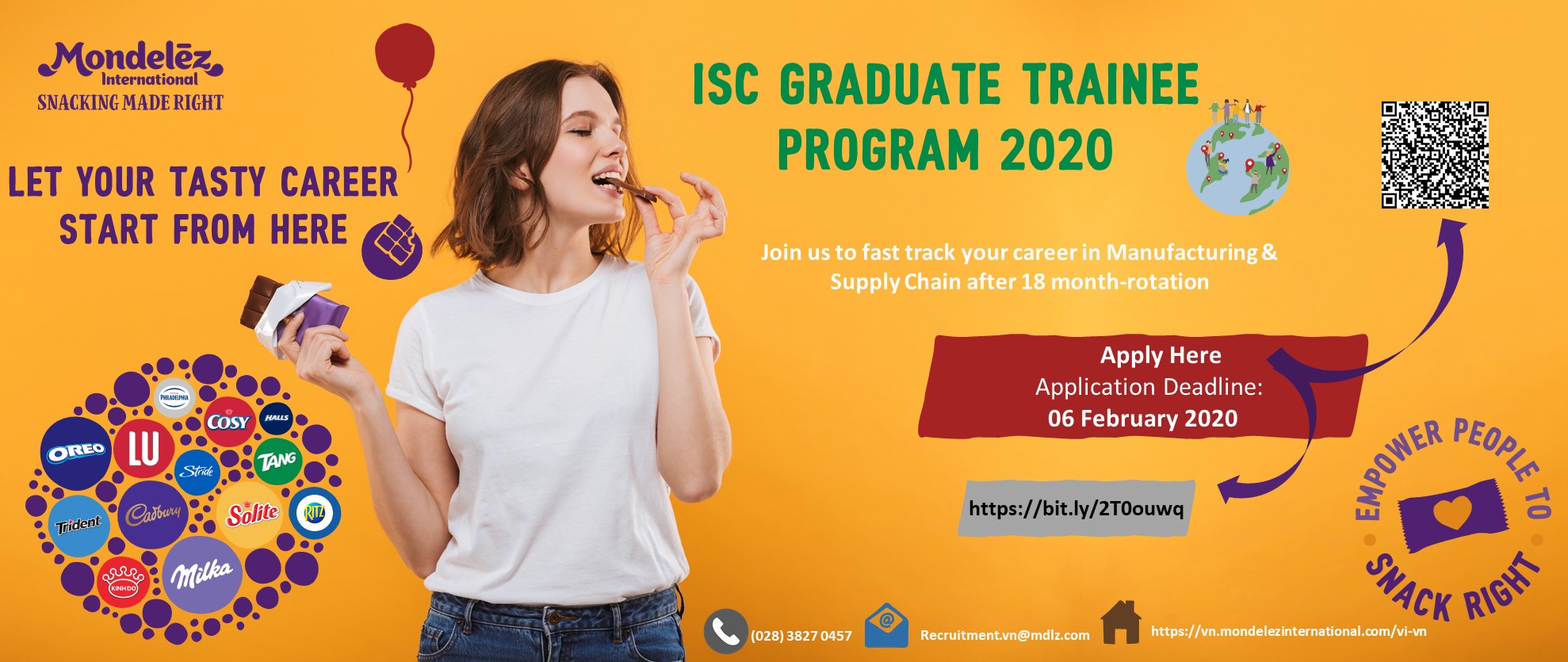 ----------------------------------
Chưa biết tạo CV chuyên nghiệp ứng tuyển tập đoàn đa quốc gia? Tham khảo các mẫu CV thành công và tạo ngay CV của bạn
---
Hợp Tác Cùng YBOX.VN Trong Tuyển Dụng, Truyền Thông Miễn Phí - Trả Phí Theo Yêu Cầu tại
http://bit.ly/YBOX-Partnership
Hết hạn
5,675 người xem