Kinh nghiệm:

Không cần kinh nghiệm - Đừng lo! Chúng tôi sẽ đào tạo bạn từ đầu. Có kinh nghiệm là điểm cộng!
-

Mức lương:

Thỏa thuận
-

Địa điểm:

Hồ Chí Minh
-

Chuyên môn:

Marketing, Truyền Thông, PR
-

Tính chất công việc:

Toàn thời gian

; Khác
First established in Italy in 1972 under the name of Wall Street Institute, we have been rebranded into Wall Street English in 2013 as we know nowadays. What started from an idea of developing a new way to teach people English has grown into a place with over 400 learning centers in 28 countries with an enrollment of 3,000,000 students.
Currently we have 07 centers in Ho Chi Minh City, Binh Duong and will continue to expand to end of year. Our centers are designed, built and equipped to the premium standards, thus providing teachers, employees and students with an excellent study and work environment. We place a strong emphasis on academic quality and this is reflected in our approach to teacher recruitment, development, support and management
Website: http://careers.wallstreetenglish.edu.vn/trang-chu.html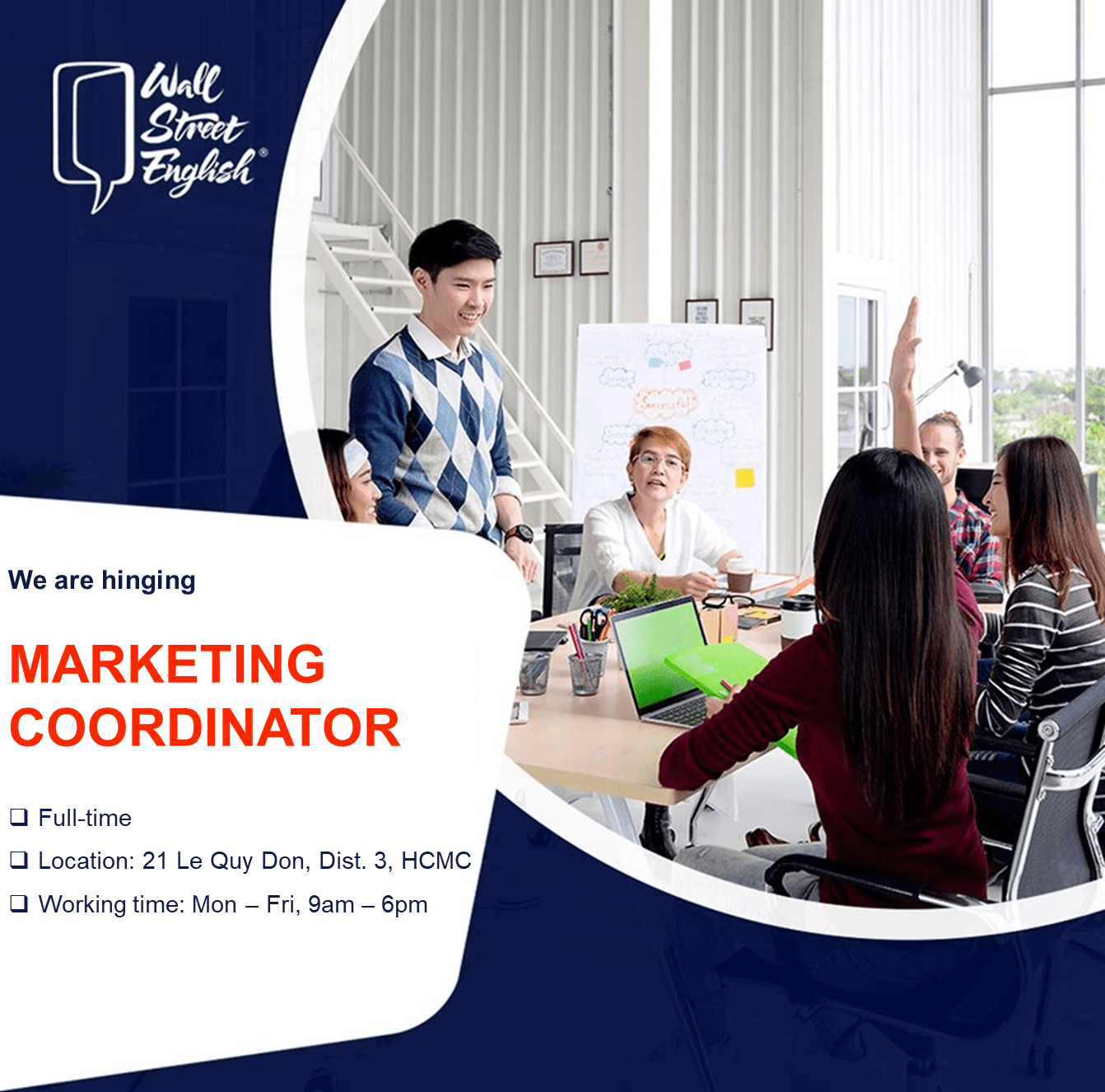 Essential Duties and Responsibilities
Monitor, analyze, budget & make variety of reports of all marketing channels. Identify opportunities and risks, provides feedback and develops recommendations
Assist Marketing Manager in controlling budget of all marketing channels
Assist Marketing team through the completion of diversified secretarial and administrative duties to ensure for all marketing activities running effectively and achieve the monthly budgeted objectives
Management of the list of clients, the contracts, deliveries and payments
Monitor promotional material (brochure, leaflet, gift…): contact suppliers, collect quotations, follow-up delivery, check quality/ quantity, stock management.
Distribute promotional material and samples. Prepare all kind of promotional materials for Sales and Marketing events
Manage all documents, video and image sources of marketing. Own responsibility in manage Magic Info system to promote WSE image at centers
Maintain professional internal and external relationships that meet company core values
Proactively establish and maintain effective working team relationships with all support departments
Support to other team members in events and projects, as well as on ad-hoc requests
Manage petty cash, all administrative and HR-related tasks
Deliver any other tasks as assigned by line manager
Job requirements
Proven analytical mindset and critical thinking
Excellent attention to detail, result-oriented and can-do attitude
Excellent presentation, interpersonal and communication skills
Good planning & organization skills
High level of initiative, maturity and integrity
Self-motivated, confident, dynamic, fun/interesting
Must be trustworthy and honest
Capacity to adapt to change and respond effectively to multiple priorities
Ability to manage time effectively to ensure that tasks are prioritized and deadlines are met
University degree, preferably in Economics, Marketing or Business Administration
Minimum 1 years broad-based administrative skills gained in a multinational company involved in sales, marketing
Computer literate, Win XP, Word, Excel, Power Point,
English: Fluently
Benefit
Competitive salary
Full training an don-going professional development
Free access to our Wall Street English course
Annual Leave of 12 days plus Vietnamese national holidays
Quality facilities and teaching resources
Dedicated academic management team support and training
If you are interested in applying to Wall Street English please send your current CV/resume to [email protected] with title [Wall Street - YBOX- 1220] Marketing Coordinator - Name
----------------------------------
Chưa biết tạo CV chuyên nghiệp ứng tuyển tập đoàn đa quốc gia? Tham khảo các mẫu CV thành công và tạo ngay CV của bạn
---
Hợp Tác Cùng YBOX.VN Trong Tuyển Dụng, Truyền Thông Miễn Phí - Trả Phí Theo Yêu Cầu tại
http://bit.ly/YBOX-Partnership
Hết hạn
357 người xem