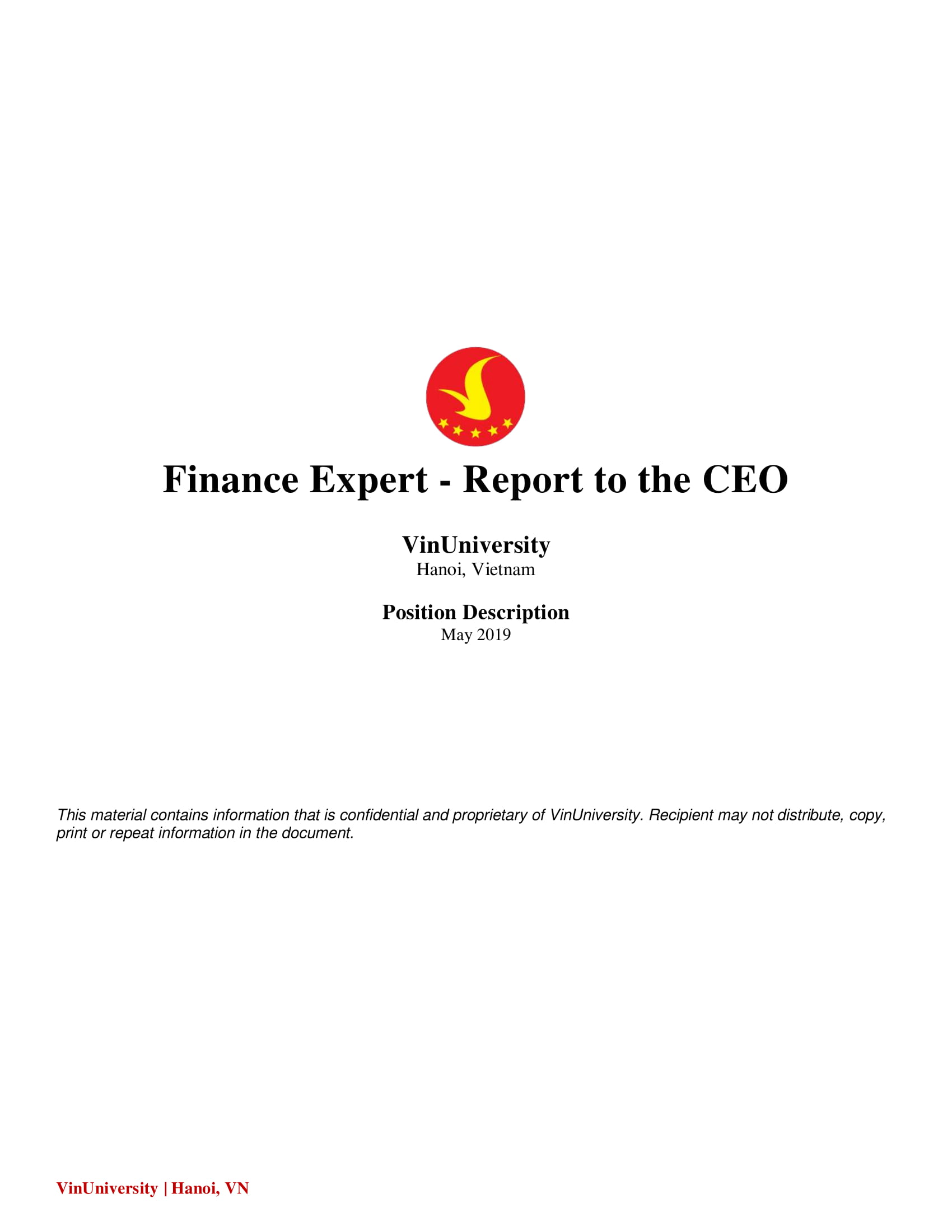 ABOUT VINUNIVERSITY
VinUniversity is a newly developed, private, non-profit university in Hanoi, Vietnam. It was established by Vingroup with a mission to be the first world-class, internationally accredited and recognized university in Vietnam. VinUniversity has two overarching goals: to excel in teaching and to produce graduates and research that contribute to developing the key economic sectors of Vietnam.
The formation of the VinUniversity Project has resulted from the collaboration of Vingroup with Cornell University and the University of Pennsylvania. Cornell provides academic consulting on Management, Engineering, and Technology; and Penn focuses on the Health Sciences disciplines. Both Cornell University and the University of Pennsylvania are distinguished Ivy League institutions based in the United States of America. Cornell is involved in every aspect of the development of VinUniversity from infrastructure and campus planning to curriculum development and faculty hiring. Cornell's SC Johnson College of Business is providing extensive academic advisement in a variety of areas, drawing from a wealth of faculty expertise at multiple colleges and units at Cornell University. Penn's medical and nursing schools are functioning in a similar fashion to guide the formation of health science education at VinUniversity and to interface with Vinmec, Vingroup's outstanding health system, which currently encompasses 7 hospitals throughout Vietnam. VinUniversity aims to meet the 5-star rating standards of QS Stars and will include the following colleges within the University: a College of Business (including Hospitality and Real Estate); a College of Engineering and Computer Science; and a College of Health Sciences. The University will be an English Medium Instruction (EMI) institution and plans to open for the inaugural class of students in Fall 2020.
ABOUT VINGROUP
Vingroup was established in Ukraine in 1993 by Vietnamese, who were living in the Ukraine. Upon its relocation to Vietnam, the venture officially became Vingroup Joint Stock Company in 2012. Vingroup's mission is to create a better life for the Vietnamese people. In 2016 and 2017, Vingroup was recognized among the "Top 50 Most Valuable Brands in Vietnam" (by Brand Finance magazine). Today, Vingroup is one of the leading private enterprises in Vietnam, operating in eight core business areas, including real estate, retail, hospitality, education, agriculture, healthcare, heavy industry (starting with automobile manufacturing), and smart technology. In 2016, education and healthcare became not-for-profit value-based systems.
Mr. Pham Nhat Vuong is the founder and chairman of Vingroup, which has $3.97 billion USD in net revenue (2017) and a largest market capitalization value of $13.6 billion USD in Vietnam (2018). Chairman Vuong is a visionary and true patriot of Vietnam and firmly believes that education is the single biggest catalyst that can transform the destiny of an individual, a society, and a nation. His aspiration is to create a breakthrough in the Vietnamese education sector and to groom the next generation of leaders in the 21st century and beyond for Vietnam.
THE OPPORTUNITY
VinUniversity is seeking for an expert in finance with an excellence track record in finance and higher education, who can bring a real balance of the strategic and operational to be the Finance Expert - Report to the CEO. He/she plays a critical and high-profile role in shaping our financial model.
This position will report directly to the CEO, lead the strategic operational finance practices, and also structure, create and maintain financial processes throughout the organization. Through his/her skills and abilities, we will be in possession of financial information and insight that can drive future developments and build on our achievements to date. The Finance Expert will provide consultation on finance effectiveness, improving financial performance, and mitigating risk.
POSITION
Position:
Finance Expert - Report to the CEO
POSITION RESPONSIBILITIES
· Establishes, analyzes and updates existing financial policies, procedures, programs, plans and systems to develop improvements in efficiency, effectiveness and productivity
· Prepares and develops long-term financial forecasts for all of the university's funds. Oversees and monitors the preparation of all financial reporting.
· Advises the Board, CEO, Provost, Deans, and others senior administrative roles of the University who manage grants or other funds to maximize use of available resources
· Provides strategic financial recommendations to the CEO/president and members of the executive management team
· Serves as a resource to college personnel in determining the cost effectiveness of current and proposed initiatives.
· Develops procedures that integrate business and strategic planning into annual budget process
· Oversees budgeting and the implementation of budgets so as to monitor progress and present financial metrics both internally and externally
· Directs the development, implementation and maintenance of financial policies; ensures that the college is in compliance with financial regulatory, legal, administrative, collectively bargained, contractual, procedural.
· Develops finance organizational strategies by contributing financial and accounting information, analysis, and recommendations to strategic thinking and direction; establishing functional objectives in line with organizational objectives.
· Manages major expenditures and capital requests; develops financial and tax strategies
Monitors financial performance by measuring and analyzing results, initiating corrective actions and minimizing the impact of variances.

Establishes, coordinates, maintains, and systematically review the process for financial evaluation of the university's programs and activities
· Reports financial status by reporting results, analyzing variances thus develops improvements
Oversees the implementation of risk management system of the organization
EDUCATION AND EXPERIENCE
· Master's degree in Finance, Business Administration or equivalent experience from an accredited institution. MBA, Master of Accountancy, CPA and/or PhD degree is strongly preferred.
· 5+ years of experience in the area of financial administration, business management, finance and higher education.
· Experience in a senior financial management role, partnering with executive staff to develop, model, and implement creative financial management strategies.
· Proven track record of success facilitating progressive financial system, process and procedural changes within a financially complex organization.
· Experience in higher education setting is preferred.
· Evidence of strategic thinking and capacity to bring strong, innovative financial and organizational leadership
KNOWLEDGE, SKILLS, AND ABILITIES
· Advanced technical Microsoft Office skills with advanced Excel & strong PowerPoint skills
· Excellent written and verbal communication skills in Vietnamese and English
· Ability to communicate complex ideas and recommendations effectively, both verbally and in writing
· Ability to work with faculty, staff, and students as well as community groups of diverse academic, socioeconomic, cultural, and ethnic backgrounds
· Ability to effectively influence and persuade, along with the ability to adapt your style and message to connect to the appropriate audience while maintaining strong sense credibility
· Rigorous and capable of high attention to detail over an extended period
· Follows up and completes with precision, conscientious and diligent
· Strives to achieve excellence and commit to the highest ethical standards and transparency
COMPENSATION
The salary and benefits are competitive and commensurate with qualifications and experience.
HOW TO APPLY
To apply, please send a resume as well as a cover letter explaining your interest in the position and demonstrating your relevant qualifications to the Search Committee at [email protected] with subject [VINUNI-0619] Finance Expert- Full name
Consideration of candidates will occur on a rolling basis beginning May 2019 and will continue until the position is filled. Individuals who wish to nominate a candidate should submit a letter of nomination that includes the candidate's contact information to the Search Committee at [email protected].
PRESS
Cornell Chronicle >> https://news.cornell.edu/stories/2019/04/rohit-verma-named-provost-vietnams-vin-university
Cornell Daily Sun >> http://cornellsun.com/2018/03/16/cornell-to-help-establish-university-in-hanoi-in-collaboration-with-vietnamese-company/
Vietnam Economic Times >> http://vneconomictimes.com/article/business/vingroup-partners-with-cornell-penn-universities
Vietnam News >> http://vietnamnews.vn/brand-info/426643/vinuni-creates-breakthrough-in-higher-education-quality.html#GGS8jf0qFgDupSrC.97
Penn News >> https://www.pennmedicine.org/news/news-releases/2018/september/penn-extends-its-global-reach-to-improve-health-care-education-and-quality-of-care-in-southeast-asia
Philadelphia Business Journal >> https://www.bizjournals.com/philadelphia/news/2018/09/12/penn-medicine-vietnam-vinuni-vinmec-global-health.html
VinUniversity >> https://vinuni.edu.vn
----------------------------------
Chưa biết tạo CV chuyên nghiệp ứng tuyển tập đoàn đa quốc gia? Tham khảo các mẫu CV thành công và tạo ngay CV của bạn
(*) Note: Please indicate YBOX.VN as the source of recruitment news in your email or cover letter. Only selected candidates will be contacted.
---
Hợp Tác Cùng YBOX.VN Trong Tuyển Dụng, Truyền Thông Miễn Phí - Trả Phí Theo Yêu Cầu tại
http://bit.ly/YBOX-Partnership
438 người xem