Địa điểm:

Hồ Chí Minh

; Đà Nẵng

; Huế

; Hà Nội

; Khác
-

Chuyên môn:

Marketing, Truyền Thông, PR

; Bán hàng (Sales)

; Hành chính, Nhân sự

; Khác
-

Tính chất công việc:

Toàn thời gian
Nestlé is the world's largest food and beverage company. We have more than 2000 brands ranging from global icons to local favorites, and we are present in 191 countries around the world.

With a history of more than 150 years of research and development, our purpose is enhancing quality of life and contributing to a healthier future. We want to help shape a better and healthier world and inspire people to live healthier lives. This is how we contribute to society while ensuring the long-term success of our company.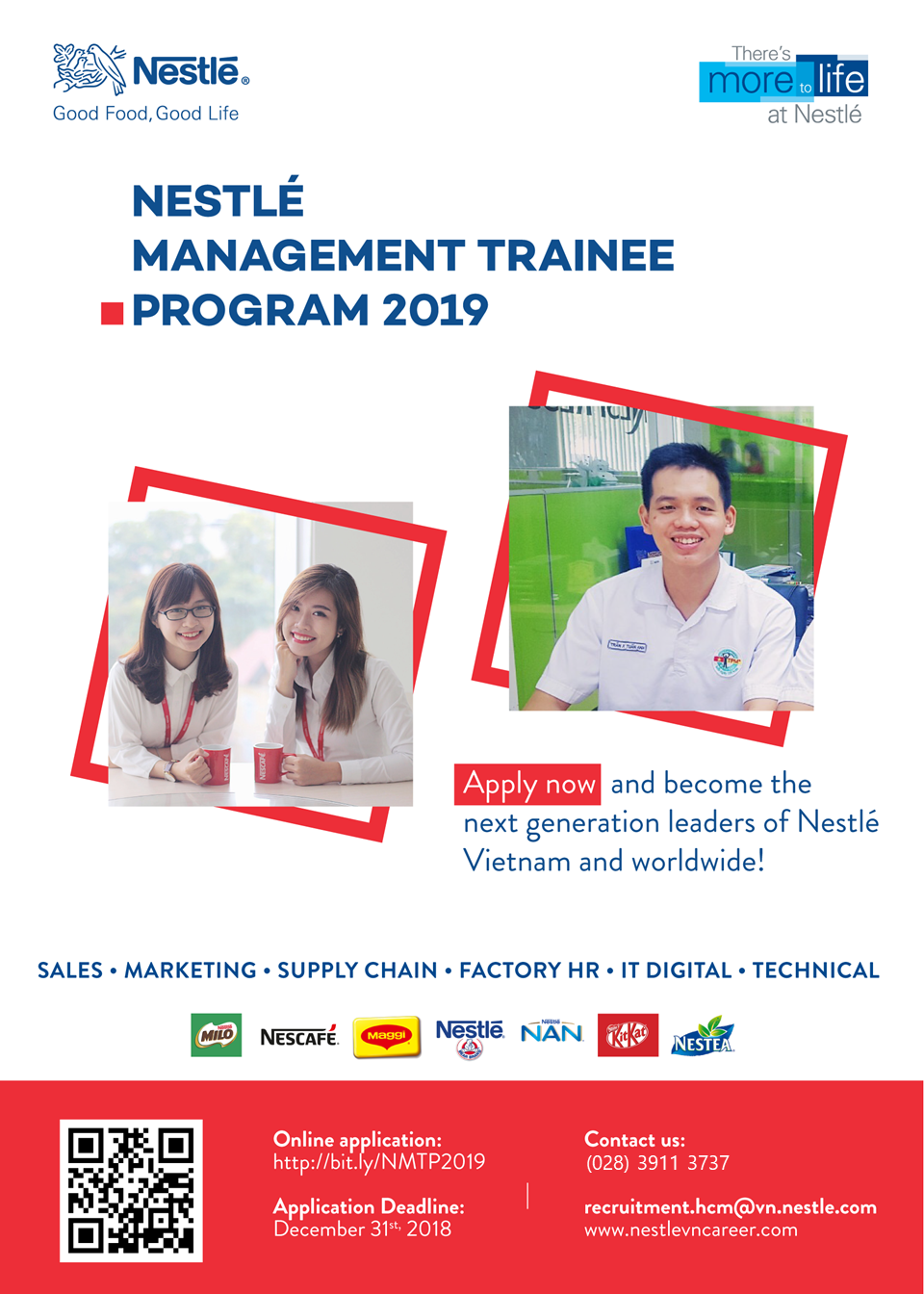 WHY NESTLÉ MANAGEMENT TRAINEE PROGRAM
Head start your career at the world's largest Nutrition, Health and Wellness company with our Nestlé Management Trainee Program (NMTP).
Experience the Nest as a Management Trainee that is dedicated to nurture individuals like yourself to be future leaders of our business. Maximize your fullest potential on an accelerated pathway by working with our diverse and experienced professionals and immerse in our brands as you embark on cross-functional job rotations across core functions such as SALES, MARKETING/COMMERCIAL, TECHNICAL, SUPPLY CHAIN, FACTORY HR, IT DIGITAL Department.
APPLICATION REQUIREMENTS
Fresh Graduate with less than 1 years of work experience;

Keen sense of business acumen, excellence in critical thinking, analytical skills and have good command of English;

Team player with strong communication and interpersonal skills;

Strategic player, driven and ambitious in delivery of results;

Possess initiative, courage and openness to embrace and lead change.
APPLICATION PROCESS
Application Screening: Submit your application through our online portal:http://bit.ly/NMTP2019
Round 1 - General Test: Go through our aptitude test to prove your bold characteristics as well as excellent capability

Round 2 - Initial Interview: Shine your confidence with our HR and functional leaders

Round 3 - Summer Camp/ Sales Challenge: Gain insight into our business through solving real-world business issues and interact with business leaders at our famous assessment center

Round 4 - Final Interview: Get up close and personal with our panel of business unit leaders
(*) Note: Please indicate YBOX.VN as the source of recruitment news in your email or cover letter. Only selected candidates will be contacted.
---
Hợp Tác Cùng YBOX.VN Trong Tuyển Dụng, Truyền Thông Miễn Phí - Trả Phí Theo Yêu Cầu tại http://bit.ly/YBOX-Partnership.

Hết hạn
8,987 lượt xem